Emergency - Call 9-1-1
Radio Room NON-Emergency - 610-383-7000
---
Police Administration
Phone: 610-384-3115
Fax: 610-384-6235
---
Hours of Operation
West Caln Township Officers are on duty 24 hours a day, 7 days a week.
The Pennsylvania State Police provide coverage to the township when our officers are not on duty.
---
Mission Statement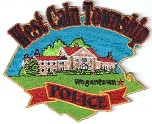 The West Caln Township Police Department is committed to organizational excellence, professionalism, and respect for Department members as well as the community. We are accountable for our actions and are committed to holding others accountable for theirs. We intend to fulfill this challenging responsibility through active participation in the following mission statement and shared values.
The Mission of the West Caln Township Police Department is to enhance the quality of life for all citizens by working in partnership with the community to protect life and property through the delivery of professional law enforcement services while maintaining the highest level of integrity and assuring constitutional rights.
---
Police Chief
Curt A. Martinez, Ext. 117, cmartinez@westcalnpolice.org

Full Time Police Officer(s)
Sgt. Christopher J. Fries, Ext. 152, cfries@westcalnpolice.org
Sgt. Tony Sparano, Ext. 154, tsparano@westcalnpolice.org
Officer Tyler DeVoe, Ext. 156, tdeVoe@westcalnpolice.org
Officer C. Dustin Vaugh, Ext. 160, cvaughn@westcalnpolice.org
Officer James Shaw, Ext. 158, jshaw@westcalnpolice.org
Part Time Police Officer(s)
Officer Desiree Rhoades, Ext. 153
Officer Russell Moore, Ext. 150